EQUIPMENT FOR HOT DEMARCATION
Complete equipment mounted on truck for hot application of paints and glass beads
CONSULTANCY AND TRAINING
ELGIMAQ offers a full service of consulting, training, leasing of equipment and technical workers
LAST GENERATION TECHNOLOGY
The road marking equipments produced by ELGIMAQ, incorporate the latest technological advances in their field.
COLD MARKING EQUIPMENTS
Self propeled equipments for cold marking
INTERNATIONAL EXPERIENCE
ELGIMAQ equipments already operating in Argentina, Chile, Paraguay, Uruguay, Angola and other countries.
PAINTING GUNS ANS APLICATORS
A complete line of guns and paint applicators for hot and cold paints and glass beads
TECHNOLOGY AND QUALITY IN ROAD MARKING EQUIPMENTS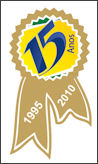 THE COMPANY
Elgimaq is established in Rio De Janeiro since 1994, in proper installations for the development and/or maintenances of all sizes of roadmarking equipment, also having, the necessary support for the adequacy and repairs in equipment of diverse national and international marks.
THE PHILOSOPHY
Our philosophy is THE CUSTOMER IN FIRST PLACE, taking care of its necessities in all its amplitude, providing since assessorship, training and labour specialized, as well as the confection of equipment and bolder designs, in the roadmarking branch.
THE QUALITY
Our products and jobs, are guided by high degree of quality, objectifying mainly, the biggest productivity in the operationalization of our customers. We are in constant update and modernization of ours techniques, using component of the best national and international suppliers of hydromechanical engineers, tires and mechanics, beyond the produced ones to size in our workshops, projected for professionals of wide experience in the operation in field.
Elgimaq News: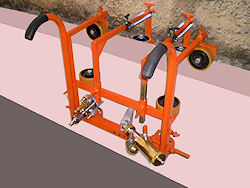 New device for painting metal fenders and new jersey for cold painting, vertical, paint gun and glass beads. Suitable for painting the fender installed on the highway.